"Pioneering Over Five Epochs"

ronprice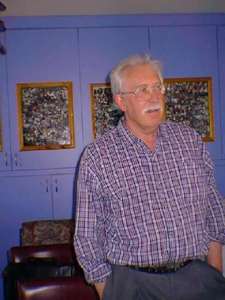 More Pics


George Town, Australia
Joined: Feb 2006

Pioneering Over Five Epochs is the name I give to my journal here at The Forum Site. It is a tapestry of statements and reviews, comments and prose-poetry about various themes in the social sciences and humanities, the physical and biological sciences as well as the movies and directors, cinema and television, as well as a list of subjects and topics too long to list. This journal attempts to endow these topics and themes with many layers of meaning and tries to evoke a complex range of responses in readers. The author, a Canadian living in Australia since 1971, has evolved a style which is highly individual yet, by fusing together much from so many fields, from his own life and his religion, appeals to both the novitiate, the veteran and people on a multitude of spiritual and secular paths. There is, too, a certain and an inevitable autobiographical aspect to these bits of prose. In some ways they can be seen as one long diary, journal and commentary on life, my life, the life of my society and the ongoing narrative of the emergence from obscurity of the religion I have been associated with for nearly 60 years.



The introduction to the Diary of Anne Frank, a book published on 12 June 1952 and which has now sold more than 30 million copies, was written by the wife of the President of the United States, Mrs Eleanor Roosevelt. I write about the following about this introduction and about aspects of my personal life and belief system relevant to this book---at least relevant from my personal perspective.
Current Music: jazz





Ron Price's Annual Email for 2011-2012
--------------------------------------------
Note: This is the 2nd edition of this annual email, and all the apostrophes have been omitted since the technology of this site does not permit the easy addition of the apostrophe. Readers now have access to my annual emails for: 2012, 2013, 2014 and 2015. They are all available at an online diary accessible from my website.
------------------------------------------
Part A: Introduction

Here we are with the solstice, Christmas, Boxing Day and New Year's Day behind us and 364 days of the year 2012 stretching ahead of us. This is a leap year and so 2012 has 366 days. Readers will find below this annual email's second edition which I decided to write after receiving several replies and reactions to its first edition posted here on 4/12/'11, an edition which received over 600 clicks in its first four weeks in cyberspace(4 Dec to 2 Jan). The solstice took place at 5:30 a.m. Coordinated Universal Time twelve days ago on 22 December 2011, or so I was informed at one of the myriad sites in cyberspace that provide information to all those with internet access. We are, then, well into the official period of summer here in Australia, or winter back home in Canada. The hottest part, or the coldest part, of the year is always January and February depending on which hemisphere one lives in. Here in Tasmania it is not as hot as mainland Australia where I lived for 25 years. The climate in this island state is much more moderate with the best of the Australian and the best of the southern Ontario climates---where I have now lived for nearly 70 years in total---combined.
Current Music: classical





Preamble:

What follows is a summary of my journals or diaries, for I use the terms interchangeably even though I am aware that fine distinctions are made by specialists in the field of diary and journal-making. This is also a long post. It is intended to be of value to those who have trouble keeping a journal for more than a few months. When you get tired of reading just stop.

The diary and journal are sub-sections of life-writing,life-narrative, autobiography and memoir writing. My journals are not those of an artist with paint, a sculptor with clay, but one of a person who sees himself as an artist in the medium of words. This summary is made after more than 25 years of diary/journal keeping, January 1984 to July 2009. Those who work in the more familiar art mediums of painting and sculpture, pottery or one of the various forms of design, may find my post useful as a comparison and contrast point. Such is my hope. As I have said before in other contexts than this, keeping a journal/diary I have found difficult. I know many others do as well, artists and people in all sorts of walks of life. The Australian artist Donald Friend's work with his art journal has been helpful to me in this vein, in the vein of keeping and maintaining a diary. Also of value to me have been the diaries of Juliet Thompson, Agnes Parsons and a range of other diaries and quasi-memoiristic resources that have appeared online in recent years.


Current Music: jazz





In 1965 Thornton Wilder(1887-1975) won the National Medal for Literature. This medal is and was an annual award to honour the achievements of an American writer and their literary career. The award was established by the National Book Committee, a non-profit educational society founded in the USA in 1954. Wilder started writing The Eighth Day, the novel for which he won the award, in 1962, the year I began my travelling-pioneering life for the Canadian Baha
Current Music: jazz





My literary activity on the world-wide-web is a personal and quite industrious enterprize. When I can find the time, I am engaged in creating across this global internet a tapestry or a jig-saw puzzle of poetry and prose. At this site, readers will find one of my many journals. Internet site administrators and moderators use this term for a series of posts by one writer/author and sometimes the responses to those posts by others, responses that they have decided are worthy of being included among my posts.
Current Music: jazz





1. EMPLOYMENT & SOCIAL ROLES: 1943 To The Present

2006--Present-Writer & Poet; Retired Teacher/Lecturer/Tutor/Facilitator: George Town Tasmania
2002-2005-Program Presenter, City Park Radio, Launceston
1999-2005-Tutor and/or President: George Town School for Seniors Inc
1988-1999 -Lecturer in General Studies and Human Services West Australian Department of Training
1986-1987 -Acting Lecturer in Management Studies and Co-ordinator of Further Education Unit at Hedland College in South Hedland, WA.
1982-1985 -Adult Educator, Open College of Tafe, Katherine, NT
1981 -Maintenance Scheduler, Renison Bell, Zeehan, Tasmania
1980-Unemployed: Bi-Polar Disability
1979 -Editor, External Studies Unit, Tasmanian CAE; Youth Worker, Resource Centre Association, Launceston;
Lecturer in Organizational Behaviour, Tasmanian CAE; Radio Journalist ABC, Launceston
1976-1978 -Lecturer in Social Sciences & Humanities, Ballarat CAE, Ballarat
1975 - Lecturer in Behavioural Studies, Whitehorse Technical College, Box Hill, Victoria
1974 -Senior Tutor in Education Studies, Tasmanian CAE, Launceston
1972-1973 -High School Teacher, South Australian Education Department
1971 Primary School Teacher, Whyalla SA, Australia
1969-1971 Primary School Teacher, Prince Edward County Board of Education, Picton, Ontario, Canada
1969 Systems Analyst, Bad Boy Co. Ltd., Toronto Ontario
1967-68 -Community Teacher, Department of Indian Affairs and Northern Development, Frobisher Bay(Iqaluit), NWT, Canada
1959-67 -Summer jobs from grade 9 to end of university
1949-1967 - Attended 2 primary schools, 2 high schools and 2 universities in Canada: McMaster Uni:1963-1966, Windsor T
Current Music: light classical





Pages: Prev | Next

The style has been entered.