"Really? :)"

Tailkinker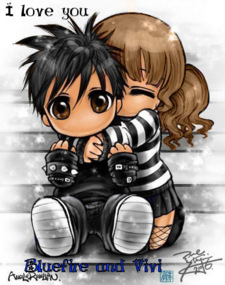 More Pics


WorldOfDarknessQueen





My Backpack, Michigan
Joined: Mar 2009
Tonight was the opening night of the Homeschoolers Preforming Arts production of Fiddler on the Roof. Little Squirrel who spends more time of TFS than he does studying was cast as Reb Mordcha and brought down the house with all his fellow homeschoolers in one of the best highschool plays I have seen in a very long time. The choreography was great, and all the kids have worked for six monthes to learn their parts. If you see the Squirrel around give him a slap on the back for a good job and for a lot of hard work

I am stranded two hundred miles from home, crowded in my mom's house with all my kids. My car died in her driveway and I am broke stressed and exhausted.

And right now every male in my immediate family have been under, over, and in my truck all day in a steady December rain. There greasy and tired and sore and they are busting their butts to fix my car. Awwww, gotta love brothers and gotta love dads. They haven't complained, just asked for something hot to drink now and then. They wont let me give them money or get under their feet. They just want my truck to be safe for me and the kids. They have been out there for 8 hours now. I wish I could repay them some day.

One of my little brothers road his bike 4 miles to help.

I am a little discombobulated with no sleep since four am yesturday, but even through my jibberish I hope to express how thankful I am to them.
Who wants to send me a dollar so I can get net. If everyone sends me a dollar I can has internetage.. Just kidding moderator peoples. Love you guys.

Hugs.

Generally Worpd and I talk about the same things on the phone that we always did online. Although those convos were often off the wall, we didn't realise that the weirdness would creep over into real life. But while he was here we found ourselves cuddled cozily under the silvery moon on the sand dunes overlooking Lake Michigan conversing deeply about the mental processes of platypi, the viability of Gungans as a galactic species, and the necessity of flux capasiters for time travel. After a particularly insane conversation we realised that the NSA was picking up and podcasting our phonecalls, barroom convos, and pillowtalk as a morning show for bored agents staking out madrasas everywhere. They use tiny microphones cleverly disguised as houseflies to tape and distribute the material, avoiding the neccesity of paying for the privledge of hearing two froods disgusing the proper proceedure for hitching rides on vogun gunships, and survival skills for the approaching civilwar between Star Wars fans and Trekkies. Tapping into the network to steal the podcasts was difficult and required a rubberchicken, a cannon, a large rubber ducky with outboard moter, two black rubberbands, a forensic patholigist, and of course a klondike bar.


At the time we could not have known that the NSA was not the only agency interested in our ramblings. We were unaware that around us a fierce struggle was about to begin. A struggle whose origins were as mysterious and improbable as the stories we spun to amuse ourselves, and as life changing as the first look into each others eyes.

****************************************************************
Chapter One
****************************************************************

In a small bar in the northern Michigan port town of Manistee two young lovers while away the afternoon over Oberon drafts. Music plays over the loud speakers and the crowded room buzzes with the sound of contented small town chat. Fisherman boast of improbable catches while their wives compare tan lines and talk of the doings of their progeny. In the corner a tall man with hooded eyes cuddles a gin and tonic while watching the scene with keen eyed interest.

The stranger's black fedora was pulled low over his face hiding his features in a self contained gloom. His dark trench coat appears out of place on this warm summer evening, like a reinactors cloak on a crowded subway. Soft tinkling sounds accompany his infrequent movement and a smell reminiscent of roses seems to permeate everything around him, yet it is a soft smell almost imperceptable to the casual observer. All of the giggling bargirls have taken note of the stranger and they jostle one another in an attempt to get a peek at his face as they pass him by.

But his attention is elsewhere than the dissappointed waitresses. His black eyes never left the young couple chilling at the corner of the long wooden bar. With their backpacks hanging from the backs of their stools and sunglasses perched on top of their heads the two look like any pair of tourists or locals relaxing after a long day at the beach. The man, tall and red bearded could have been an imposing figure except for his congenial grin and warm greenish eyes, giving the impression of a young Santa Claus. The girl is coltish and lithe, drapeing over her barstool rather than sitting at it. Her elvish face is free of make-up yet she is adorned with many kitschy peices of jewelry.

Niether of the two seemed aware of the dark man's continued scrutiny as he evesdropped on their wandering conversation.

"But still, Princess Leia killed far more people pointing the deck gun down and blowing the sand barge into oblivion."

"True that, but just killing people is not Ninja. Ninja is killing people with flair and verve. Just being tough is not enough to be ninja."

"Yeah but name me one person Daisy Duke actually took out! All she ever did was kick people in the balls and occaisionally wave her little hieny at the cameras."

"She drove f***ing ninja thats for damn sure. And atleast her shorts covered more than that bikini Leia was wearing."

"But could she handle a speeder bike like Leia did on the forrest moon of Endor?"

"Sure she could have, I mean look at the way she rocked that jeep she was always driving."

"True but Leia also ninja'd her way into Jabba the Hutt's palace with WITH a thermal detonator.... Lemme see Daisy do that. She would have pissed herself the second she saw a jawa!"

"Nah she wouldn't, she would have kicked ass, she was always having to get into bar fights and stuff."

"Yeah, but Leia killed Jabba the Hutt with nothing but her bare hands and a chain."

"Still in one episode Daisy had to take on a whole gang of smugglers by herself....."

The two continued with much laughter and another round of drafts to lubricate the conversation. The dark man shifted in his seat patiently willing to stay as long as neccessary. This quary may have been valuble to the High Command, but they were not difficult to locate and stalk...

***************************

In a small, non-discript office building in Virginia three men loafed around the watercooler, much like office workers anywhere. But these three office workers were different. Special Agents with the NSA their duties didn't differ much from the standard paper pushing in any other government agency, but the prestege of being a Special Agent with the NSA was more likely to help them pick up chicks in the local clubs after work than a staffer for the Department of Agriculture. They also had access to more interesting peices of new technology, and to a far more interesting morning show podcast than other government employees usually enjoyed.

"I think they were a little off their game today." Held forth the tall agent. "I mean, yeah, debating whose more Ninja, Leia or Daisy Duke. That oughta have been a blockbuster."

"It sure was a bit flat." Agreed the shortest agent.

"Could have been worse," Chimmed in the adverage agent, "Remember when they blew the whole evening talking about world religions and their ramification on local government structures." He made a face indicative of disgust at the memory.

"Oh God, that was as boring as Old Agent Filman's lectures down at The Farm." The Short one rolled his eyes. The Farm was the colloqual nom-deplume for the training center for Special Agents, well loved by readers of the works of Tom Clancy who were unaware of how boring classes for Special Agents can be.

"Maybe we need to get them to lay off the Oberon," the tall one ruminated, "they are a hell of alot funnier when they're knocking down Bud Lights."

Shaking his head he wandered off mumbling, "I'll take care of it...."

**************************

Unaware of the dissapointment they had sewn amongst Special Agents world wide, the two young people spent the warm summer evening walking along the river, swatting at flies that seemed to bypass every other pedestrian and swarm about them with an annoying determination.

"Dunno, I mean, I could just smear crazy glue all over my hands before you get on the ferry. Then when you take my hand to say goodbye you'll stick and they wont be able to let you get aboard."

"Nah, they will have to count us as one passenger because we will be stuck together."

"No they wont, we are manefestly two people, and your mom will think I am a stalker."

"That would be stalkerish"

"Woooo I am stalking you!"

"I would love to be a stalker, I would stalk a head of lettuce at the grocery store.... I would watch it with binoculars over the oranges."

"Yeah, but then someone would buy it and you would then be stalking the owner. Who is a human, which would make you a real stalker."

"Yeah but I would put a tracking device in the lettuce so I wouldn't have to actually stalk the owner....just the lettuce."

"Sure but then they would eat it"

"Yeah but it wouldn't stay with them long before it would be running through the city again"

"To the sewage treatment center! And you already know where that is!"

"But than I could stalk the whole process!"

"Oh my goddess that is freaking gross!"

"Your right, it would be a lot cooler to stalk celery, cause then you could call yourself the celery stalker."

"I read a book when I was a kid called, ""Celery Stalks at midnight""

"Really?"

"Yup."

"Cool"

Silence rained for a while, as silence often does when no one has anything to say, which in the land of humans is not long. Especially with these humans.

"Still doesn't keep you off that ferry."

"Yeah it doesn't, babe. I wish it could."

The evenings hilarity died for a while under the weight of an undifinable, and yet heavy pain. The knowledge of a coming seperation, unavoidable though it was. It was a cloak of approaching agony the young ones wore as they continued their jaunt through the twilight path.

Keeping pace behind them a tall man strolled sedately, appearing to be interested in the many small fishing vessels and watercraft lining the docks below the Riverwalk. A faint pleasant smell of roses followed him like an obediant pet.

**************************

In a small town in Michigan the price of Oberon drafts increased three-fold overnight.

**************************

In the basement of a small house in Manistee, a man turned over in his sleep. She was there, as he knew she would be. Small and warm in his arms she barely stirred as he whispered, "I love you."

****************************************************************
To Be Continued..............
****************************************************************

I had a great time the last two weeks that a certain someone was here. Now I am back to my daily routine and enjoying the last bit of summer... looking forward to my favorite season, Autumn. I am in one of the most beautiful places on earth. My custody hearings are almost over, pretty soon I will have my kids for regular visits. I am getting stuff taken care of and alot of the stuff that I have had to worry about is being resolved. I have been checking things off my list. I have a couple lines out on potential jobs, which is awesome. I had feared there could be atleast six months of job search, and so I am in good shape so far to not see that fear become a reality.

All and all I have so much to be thankful for. I get down sometimes because I get tired, frusterated, or overwhelmed. But I keep looking at where I am and where I had been afraid I would be and I know that things are working out great. I have so much support and love up here.

Life is really getting back on track, and its exciting to see how much falls into place each day. Its exciting to see my monsterous to-do list shrink, debts and legal issues get resolved, and watch challenges be overcomed with the help of my awesome family and friends.

So I am happy to tell all my friends here that are pulling for me....keep it up its working!! All your prayers, thoughts and encouragement is helping to make this happen

Ravenclaw--Mason and Joseph=80

Gryfindor--Bri and Kitty=75

Slytherin--Charles and Morgan=75

Hufflepuff--Robert and Patrick=70


Keep up the good work Guys!!!

Special Congrats to Joey for earning ten points to win the weekly cup!
So having 11 kids ages 15 and under for the whole summer has not been the nightmare I thought it would be, but it sure has been a challenge. Especially keeping the house clean.

Finally somewhere along the line I gave up and turned to Harry Potter for help. Now we all know Harry Potter is pure grain evil and no good ever comes to the reading of his evil books or the watching of his sin inducing movies

But a girl's gotta do what a girls gotta do.

So I grouped the older kids up in four teams of two and named them after the four houses at Hogwarts. I published a chore list for each team and put up house cup points. Weekly house cups are my dad's beer stein with an Ice Cream or candy bar each. At the end of summer the winning house gets dinner and a movie.

Since that small reorganisation attempt the whole house is clean, the kids dread getting in to trouble and losing house points, they line up and plead for extra points for their house. They want to have competitions to earn more points.

How long will this last? Will points work all summer long? Will Gryfindor keep pulling practical jokes on Slytherin?

Only time will tell

Your very own Skunky & Simply Wallpaper from Kinky and Worpd










I am making an Elven Vow that I am going Camping. Real Camping. I am Vowing that I shall leave the 26th and not come back till the 3rd. And I am vowing not to come back for anything less then death or disaster.



Pages: Prev | Next